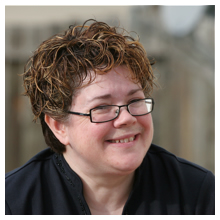 Sonja Andrews
My grandmother taught me to sew when I was six years old. We were moving from Kansas to Vermont and spent time with my grandparents in Florida. That was when she taught me to sew by hand. I think somewhere I still have a tiny little Barbie skirt that I made ... sans hem or waistband. It was just a circle of fabric sewn together very crudely to go around the Barbie body. A few years later, I took a sewing class in 4-H in my hometown in Vermont taught by one of the moms. I made a black gingham pillowcase and glued a felt horse onto the middle of it. It was absolutely atrocious, but I loved it because I made it. Sometime during this era, I was reading the Laura Ingalls Wilder books and learned about quilting. I would hand sew together scraps of fabric into unwieldy and rumpled shapes with no hope of ever making a quilt, but that was what I very badly wanted to do. I took sewing classes in home ec and continued to sew my own clothes through college and into early adulthood.
In my mid-twenties I had made a quilt without realizing it for a friend who had had a baby and done a very bad job of machine quilting it. I hope that quilt never sees the light of day. I didn't know what I was doing at all and made a very bad job of it. In my late twenties I began to collect quilting books to repent for my bad deed. When my son was born, I made what I consider to be my official first quilt. It was a crib quilt for him and I finished it in time for him to use when he moved to his big boy bed!
<need a photograph of John's quilt here>
I've since made many other quilts, some on my grandmother's Featherweight 221. Yes, the same grandmother who taught me to sew also gave me her Featherweight when she passed away in 1989. I take it to classes and use it on the road. For sewing in my studio, I use a Bernina virtuosa 153. I love them both.
I've taken classes with Kaffe Fassett, Liza Prior Lucy, Amy Stewart Winsor, Dede McElroy, Pat Sloan, and many others almost too numerous to mention.