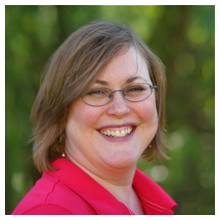 Jennifer Goforth
I've only been sewing seriously for about five years, but I've been around sewing my entire life. After my grandfather passed away, my maternal grandmother made her living as a seamstress. She spent many years making custom clothing for the well-to-do ladies of Norfolk and Virginia Beach. I have fond memories of the many hours I spent in her sewing room, watching as she cut and pinned, pressed and sewed to create a unique garment. I remember her dress form and watching her take two dimensional fabric and work her magic to make it a three dimensional garment. She made a homecoming dress for me one year and later my senior prom dress--an awesome creation of teal satin with a shimmery overlay, and an asymmetrical top with only one shoulder where I got to pin one of her fabulous rhinestone brooches.

I learned to sew in high school, but I think my ambitions exceeded my abilities and led to lots of frustration. I remember fighting with charmeuse to make a slip and with denim to make a pair of those baggy overalls that were in fashion at the time. My mom had given up sewing for the same reasons. She would make curtains or do an occasional alteration, but fitting the human body was just too frustrating, and took all the fun out of sewing for both of us.

Many years later, I met several women through church and home schooling who were avid sewers and quilters. They were having so much fun! They finally sucked me into their madness (it didn't take a lot of prodding) and I'm happily here today. I do occasionally sew garments, but more often than not I opt to alter ready-to-wear to fit me better and save my energy for quilting. I can quilt with any color or pattern that strikes my fancy, but I can't necessarily wear those colors.

I enjoy everything about quilting. I like to shop and look and touch (and occasionally drool over) all the fabric. I love choosing all the fabrics for a particular project or just letting one spectacular print tell me what it wants to be. I like planning a quilt--deciding which blocks to use, what size they should be, how the quilt should be laid out, sketching and coloring several different options, writing the cutting directions. I love cutting all the pieces and seeing the blocks come to life as I sew them together. I really enjoy collaborating with my friends and coming up with new ideas to make each quilt better than the last. I'm looking forward to doing some more adventurous things, learning new techniques, and expanding my horizons as a quilter.